Northern India - 03/15/01
Northern India
Our northern India journey began with the beautiful city of Udaipur in Raiastan. This home of the former Maharana is famous for its splendid palaces. Yes, palaces - there are three of them in the city: the summer Lake Palace which appears to float on the lake, the hilltop Monsoon Palace, and the sprawling City Palace that rivals the Winchester Mystery House with its numerous additions over hundreds of years. (I'm sure you'd like to see pictures but we mailed them home by accident.) We loved the city with its opulent raj history, quaint narrow streets, and fabulous shopping.
From here we made the long journey to the desert city of Jaisalmer where we were rewarded with another enjoyable stay in a magnificent city. The town is dominated by an enormous fort in which half the city still lives. Throughout the city, the intricately carved sandstone mansions called Havelis also stand as a reminder of the city's once rich and powerful history. The entire city is built from sandstone, and it takes on a magical glow at sunset. We loved this city also for its opulent raj history, quaint narrow streets, and fabulous shopping. It had the added bonus of an amusingly high cow-per-tourist ratio.
A highlight of our Jaisalmer visit was our adventure out into the surrounding desert on a camel safari during which we learned that CAMELS HAVE INFLATABLE TONGUES! Male camels try to impress the female camels during a particular time of year with this remarkable display of a whoppie-cushion like membrane sputtering outside their mouths. And lucky for me, my camel was doing his darndest to impress. This combined with the rain while we were sleeping under the stars made for a most entertaining safari.
Two train rides and a bus ride later, we found ourselves in Bharatpur, home of the ex-maharaja's hunting grounds, which now make up the Keoladeo Bird Sanctuary. Here we escaped the normally hectic pace of India for a while. As we explored the beautiful, quiet, clean park by bicycle we spotted an amazing variety of bird life including goofy-looking spoonbills, endangered Siberian cranes (only two made it from Siberia this year), a spotted owl, ibis, storks, eagles, herons, kites, and our favorite, the colorful and stout kingfishers.
To counter-act the relaxing peace that we found in Bharatpur, we headed to Agra, home of the Taj Mahal and spawn-of-Satan rickshaw drivers. We roused ourselves before sunrise, grumbled, forked out the $21 entrance fee to the Taj, grumbled, and entered the grounds only to be instantly dumbstruck. The Taj Mahal is absolutely stunning! Breathtaking. Awe-inspiring. Amazing. You enter the grounds through a large red sandstone gate to be floored by the enormous gleaming white marble Taj at the end of a series of symmetrical ponds. I loved the perfect symmetry of the place. There is a red sandstone building west of the Taj that mirrors the huge mosque on the east side; it was built "solely to maintain symmetry". Be still my engineer's heart.
Inside the mausoleum is intense. The high dome ceiling echoes every little sound. Throw a few tourists and pigeons inside and you get a virtual cacophony. The light that filters in through the marble latticework is magical. The workmanship of the marble inlay is exquisite; floral and geometric inlay patterns are made from semi-precious stone and decorate everything. The only non-symmetrical thing there is Shan Jahan's (the builder) tomb next to his wife's. His is off-center since he never intended to be buried there. All in all, the Taj Mahal is probably the most spectacular man made thing I have ever seen.
From Agra we found our way south-east to Khajuraho which wins my "cleanest city in India" award. Here we visited the scandalous sex temples, which portray some rather amazing human tricks. More notable was our near-death experience on the street. An amorous bull decided to demonstrate his affection to a cow standing very near us. The ensuing scuffle between the two nearly ran us down; only our quick leaping reflexes saved us. After leaving Khajuraho we spent a morning at nearby Panna National Park where we were quite lucky to see two beautiful and endangered Bengal tigers at close range from the back of an elephant. Amazing! They were like two giant lazy kitty cats wallowing in the sun. Seeing them made our day.
Our Indian odyssey ended with a week-long visit to Varanasi, the holy city on the banks of the Ganges river. We were in town for the colorful Holi festival in which folks celebrate the harvest by assaulting everyone in sight with colored dye and paint. Because we were warned repeatedly that things could get dangerous on the streets, we decided to stay inside our guesthouse only to learn that there was a staff/guest war planned. We made friends with the other guests (very cool folks) and built a large arsenal of water balloons filled with colored dye. We launched an attack from our balcony on the guests of the neighboring hotels and the gravitationally disadvantaged local kids down on the ghats. Then the staff attacked us and the next three hours became total chaos. We put up a good fight. We turned against each other. It became a flurry of water balloons, color dye, silver paint, buckets of colored water, dye powder, bursting, squirting, splashing, and pouring. We were all covered head to toe in pinks, reds, blues, greens, and silver. Everyone was high from the fun (and the paint fumes).
Once our ammo ran out, the dance party began - the Indian boys were dancing mad to Hindi techno and Michael Jackson. The entire party had a very surreal feel to it. In the afternoon, the high energy dissipated and massive bathing commenced on the ghats. (We opted for the guest house shower; too many dead animals in the Ganges.) Everyone in the city donned new clothes and celebrated in the streets in a more subdued manner. We joined our friend Manish, a local boy who was part of our Holi war, and went out on the town. We visited his extended family giving holy offerings of tikka (red powder smeared on foreheads), received hearty hugs from well-wishers, and basked in the chaos of the streets. In general, we had a ball. Holi was probably one of the most exciting days of our trip so far. Woo hoo!
Another highlight of Varanasi was our little friend Puppyji (Hindi for "most respectable puppy"). He greeted us upon arrival at our hotel at 4:30 am, and brightened my morning after a hectic arrival that included a scary run-in with an angry bull. He had no mother and was in desperate need of food. I decided I had to break my never-touch-an-animal-in-a-foreign-country rule; he was that adorable. We took him in, feed him, bathed him, and held him continuously. Our friend Manish was excited about taking him and when I spoke to his family they agreed. I took Puppyji to the vet for his vaccinations, which was an adventure in of itself as I found myself standing in line next to folks with their many goats, mangy dogs and a monkey. A bout of explosive diarrhea (the puppy, not me) made things really awkward and I wound up paying for a new sari for the women next to me. It was the one time I was thankful that I did not understand Hindi. I visited Puppyji frequently in his new home, and the family is really good to him. I miss Puppyji already.
Overall our journey through India was fantastic. At times it was pure crazy, and there were some moments of frustration when my dark side was revealed. But I think back on the gorgeous sights and all of the wonderful people we met and I know we will be missing it before long. Well, it might be a long time before we miss the smells. :)
| | | |
| --- | --- | --- |
| Traditional Raiastani dancer | Show-off! (note the swords he's standing on) | 400 year-old Salim Singh Haveli - a beautiful example of typical Rajastani sandstone carvings |


The cenotaphs of the Jaisalmer Rajas

The golden fort of Jaisalmer

Desert dweller

The intricate brickwork of a 1000 year-old Jain temple


This, carved from one stone? No way!

"I'll call him Flappy."

The drinkman cometh...so much for our isolated desert get-away

Camel tongues inflate!?!


Geoffrey of Arabia

Gorgeous Jaisalmer fort

Happy Rajastani couple

Cool kingfisher

Sunrise at the Taj Mahal

Some big building we stumbled across in Agra

The world according to Lisa

Taj Mahal - side view

Wedding hoopla

Agra Fort


Teacher...

...and pupil

Khajuraho Temples - viewer discretion is advised

Elephant eye view of a Bengal tiger

| | | |
| --- | --- | --- |
| Scary elephant! | Scary cow! | Dancing in the streets of Varanasi before the Holi festival |


Holi war victims

The good, the bad, and the painted

The kids plot their attack on our friend Tiger

The ghats along the Ganges river in Varanasi

Lisa adopts a friend

Even Puppyji couldn't escape the Holi fun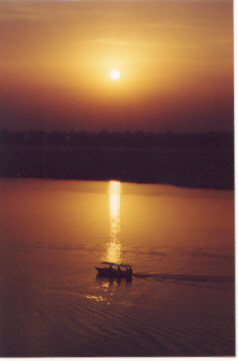 Sunrise over the holy Ganges river


<-- BACK | UP | NEXT -->