Cambodia (5/18-5/23)
After meeting up with Kitty (Geoff's mom), Nathaniel, Chris and Steph we made the transition from traveler to tourist and flew in style to Siem Reap, Cambodia, for an excursion to see the famous Angkor Wat temples. Siem Reap is chock full of fancy hotels and high prices (all in US$ too), but boy is Angkor Wat cool! The area is full of old temples and palace ruins dating from the 9th to 15th centuries. We hired a van to take the gang around (which now had expanded to include Alex, Tamara and Micol who braved the overland route). Our driver, Lucky, was great despite his inability to apply the parking brake to our stopped vehicle. One close call had Steph diving in through the passenger side to stop our van as it rolled away.
I really don't have much to say about the temples. They were truly amazing (may I suggest you look at the pictures?) - Angkor Wat for its sheer size and detailed bas relief murals, Angkor Thom for it 200 huge serenely smiling stone faces, and my favorite Ta Phrom for its total lack of restoration making it a great jungle gym entwined with towering banyon trees. It was all well worth the $40 ticket price and we ran ourselves ragged seeing it all in three days. And true to our tourist selves we made it to a cultural dance show in the evening.
Our day off from temple climbing was spent shopping in the morning and in the afternoon we splurged for entrance to the pool at a fancy hotel which we proceeded to sit in during the most torrential monsoon storm yet ($5! I'm not leaving!). Good times, good times...

An enterprising pyramid guide

The serene faces of Angkor

The endless doors of Preah Khan, Angkor

Angkor is still alive with worshipers

I don't remember putting that tree there.

Hubba-hubba

Detail of the bas reliefs of Angkor Wat

Angkor Wat


The Gateway to Angkor Thom

The faces of Angkor Thom

Fabulous Angkor Thom

Lost in the labyrinth of the Terrace of Elephants


Banteay Srei exterior

Healthy chicken?

Buddha shrine at Angkor

Wow!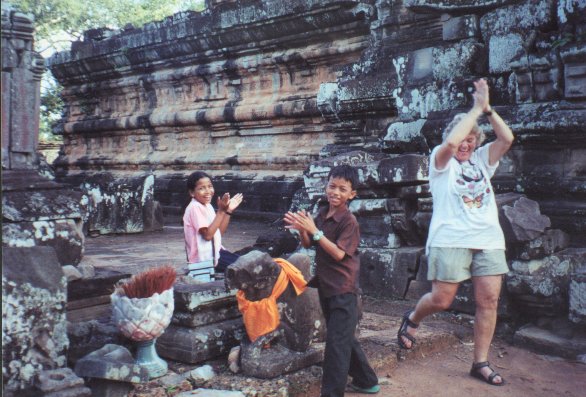 Mom tells a great story


<-- BACK | UP | NEXT -->